What Mother Assumpta taught me
I vividly remember witnessing an intense moment at one of the annual meetings of the Institute on Religious Life years ago.
On the beautiful campus of the University of St. Mary of the Lake in Mundelein, IL, Mother Assumpta Long, OP, foundress of the Dominican Sisters of Mary, Mother of the Eucharist, was standing outside of the chapel. She was talking seriously with a young lady who had come to the event. I did not hear the conversation, but knowing Mother Assumpta, it probably had something to do with the young woman's vocation plans.
You have to make the most of every opportunity, as St. Paul says.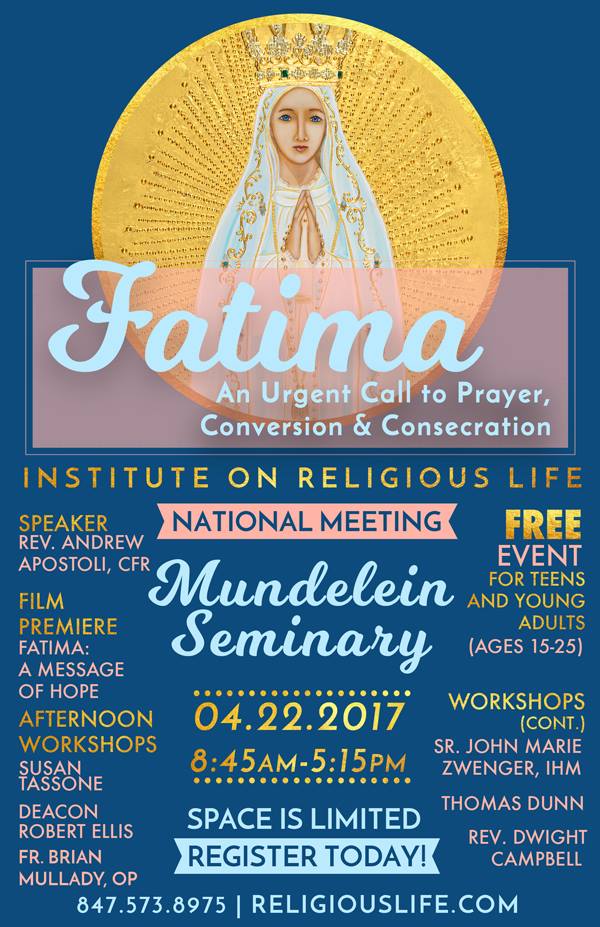 Mother Assumpta's pro-active vocation work is one of the three reasons that I am encouraging you to attend this year's IRL National Meeting, held April 21-23, in Mundelein, IL. Here are what I see as three benefits of attending:
Hear some of the nation's greatest speakers on religious life.
Get inspired and encouraged through the beautiful liturgies, and meeting four hundred other authentic religious members.
Meet young people who may have a vocation to your religious community.
I might add that I will be there as well, writing an article for the IRL's Religious Life magazine. I'll also be there at a display table with my laptop, showing vocation directors the way that we find candidates through our Come & See Vocation Program. I plan to give an informal presentation at our table at 12:30 pm Saturday. Bring your lunch and your curiosity.
This year's theme is "Fatima – An Urgent Call to Prayer, Conversion & Consecration." The IRL states that everyone—clergy, religious, laity and students—is invited to attend this special weekend intended for spiritual renewal, reflection and affirmation in the role of the consecrated life. The weekend is co-sponsored by the World Apostolate of Fatima, USA (Blue Army).
See you there!